About Classic Granite Works
WHO IS CLASSIC GRANITE WORKS?
We are a family owned business that's been operating in Central Alberta since 2005. Originally based in Ponoka, we expanded to Red Deer in 2016 with a brand-new showroom and fabrication facility located at Gasoline Alley.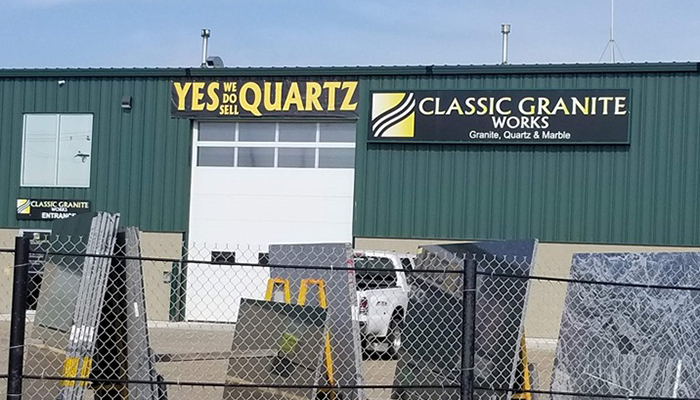 What We Do
We stock a huge selection of stone slabs, meaning you can view and select the specific piece of granite or quartz to be used in your home, without having to travel to Edmonton or Calgary. Our experienced team will walk you through the entire process whether it's a new build or a renovation – taking care of everything from templating to installation.
Our customers can expect professionals, honest and upfront pricing, guaranteed workmanship, labor and so much more. Meaning the job is not complete until you are satisfied. Our dedication to serve our local community with excellence is just one of the many things that makes us a leader in the industry.
All our work is backed by warranty.
OUR FABRICATION TOOLS
A block saw, or gang saw, cuts the massive stone blocks into slabs. A bridge saw is then used to cut the stone slab into the proper shape for its application, whether it be a countertop or a sink.
Polishers grind down the naturally rough surface of the stone to whatever finish the consumer desires. Hard stones like marble and granite can be polished all the way to a mirror finish. The polisher consists of rotating pads which are surfaced with an abrasive substance. Most modern polishers can produce a variety of finishes, from the smooth, soft look of a honed finish to a slick, shiny mirror finish… even decorative finishes like flamed, tumbled, or hammered. Routers create edge profiles on a slab, and cut designs on larger pieces like fireplace mantles and hearths. There are dozens of standard edges for countertops and tables. The end product is a dazzling work of art that pleases the eye, and will beautify your home.
MEMBER OF BETTER BUSINESS BUREAU AND STONE FABRICATORS ALLIANCE